Aerial Yoga (Private Sessions)
aerial yoga classes near you in St. Petersburg, FL
This private session is taught by a trained yoga instructor to guide you in positions to gain more mobility within your body. This type of therapy is great for people who have back or joint pain.
The ultimate in relaxing and rejuvenating treatments, we use aerial yoga to help you de-stress, or achieve a deep state of awareness.
Body Therapy Spa
is the premier aerial yoga studio in St. Petersburg, FL. We believe that everyone should feel their strongest and most free in their body, so we designed our classes to help you achieve that feeling.
Aerial Yoga is the next level of in-home
fitness
. Our professional instructors will guide you through a fun and engaging workout that builds strength and flexibility, while leaving you feeling revitalized. With Aerial Yoga, you can work out your entire body in one class. It is the perfect way to reduce stress and anxiety, improve circulation, release tension & stiffness,
get rid of back pain
, strengthen and tone your arms, shoulders & core muscles, increase balance, coordination and flexibility…the list goes on!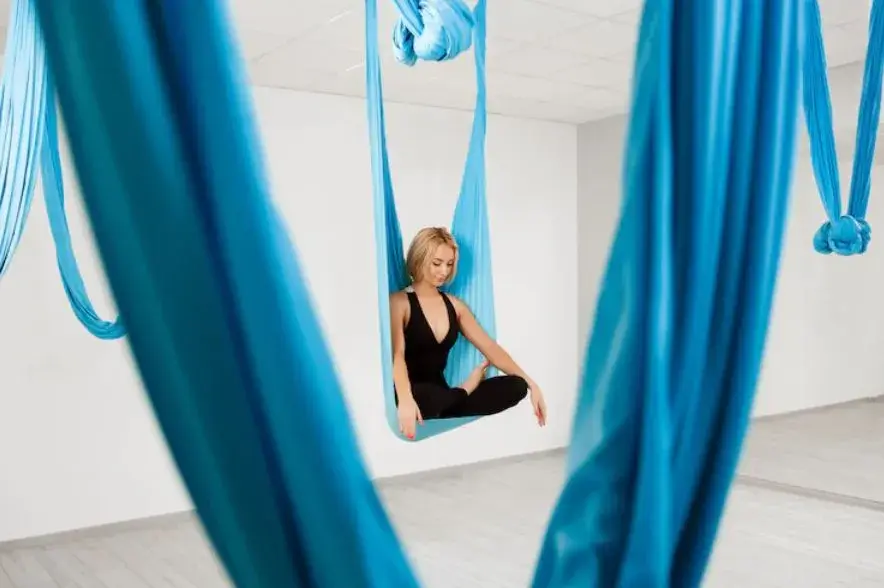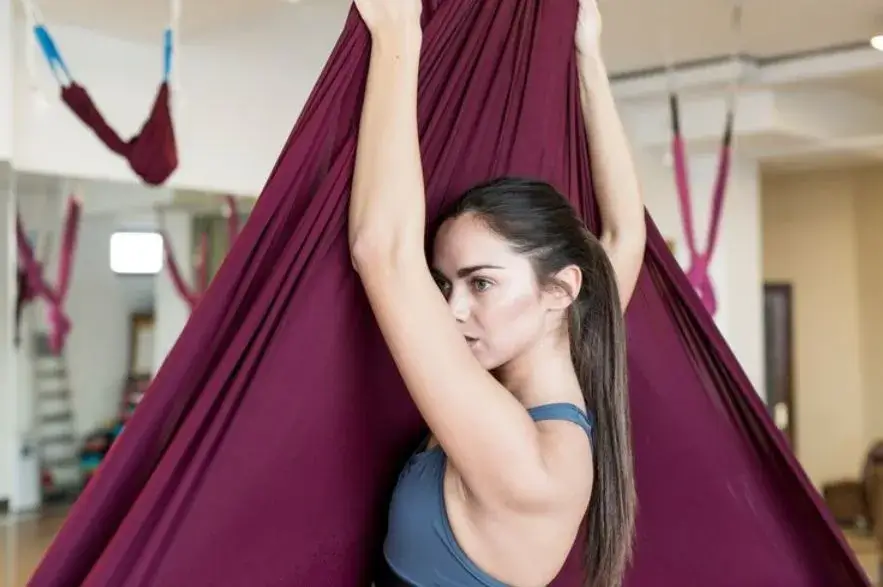 Practicing aerial yoga is a low-impact form of exercise that focuses on the muscle groups specific to your body's needs. If you suffer from back pain, soreness, or stiffness, aerial yoga can help relieve those symptoms. Not only that, but we are proud to say that our equipment will provide you with extra support, so you can work out at your own pace and still get results!
What Are You Waiting For...
Most frequent questions and answers
Aerial yoga is not dangerous.
Aerial yoga uses a hammock, a soft fabric that can move through the air. The hammock is suspended from a frame, and the frame is attached to the ceiling by straps. The straps are tied off at various points on the edge so that you can adjust how high or low in the air you want your body to be during your workout.
When practicing aerial yoga, you will learn how to use your core muscles and other muscles throughout your body to balance on top of the hammock and hold poses for periods of time. This helps build strength and flexibility in your body in ways that traditional yoga does not offer.
Aerial yoga is not hard, but it is challenging. It's a great way to get into shape and improve your flexibility. Aerial yoga builds strength in a way that traditional yoga doesn't because you are suspended in the air.
Aerial yoga is a great way to lose weight, and it can help you in many other ways as well.
Aerial yoga is the practice of yoga done on a fabric hammock that's suspended from the ceiling. It allows you to use your own bodyweight as resistance, which means your muscles will be getting an intense workout without putting too much strain on your joints. This makes it ideal for people with injuries or joint problems who want to stay active but aren't able to do high-impact exercises like running or jumping rope.
In addition to burning calories and toning your muscles, aerial yoga makes it easier for you to breathe deeply and relax into poses that are typically more challenging because of gravity's pull on your body. Relaxation is important because it helps reduce stress levels—something that can often lead to weight gain over time!
What's more? Aerial yoga also helps improve balance, flexibility, posture and coordination (so if you're looking for a fun way to stay active after retirement age then this might just be what you need). So if you've been thinking about trying aerial yoga then now's the time!
Aerial yoga is an incredible way to get fit during pregnancy.
It's safe and effective because you can do it with a certified instructor, who will help you modify the poses so they're safe for your body.
You'll also be able to relax and enjoy your time on the silks—you won't have to worry about balancing or falling off.
Yes! Aerial yoga has been proven to be great for back pain.
When you do aerial yoga, the movements are gentle and slow, and there is no impact on your vertebrae. The gentle resistance of the hammock helps strengthen your core muscles, which can help relieve back pain.
Aerial yoga is a form of yoga that utilizes the use of fabric, straps, or hammocks to allow practitioners to get into poses that would otherwise be impossible without the support of their hands and feet.
Aerial yoga can help you:
-Improve your flexibility
-Increase your core strength
-Tone and shape your muscles
-Reduce stress, anxiety, and depression