In today's fast-paced world, where sedentary lifestyles and long hours spent sitting have become the norm, maintaining flexibility and mobility can be challenging. However, there is a solution that can help improve your overall well-being and physical performance: assisted stretching. Assisted stretching is gaining popularity as an effective method for enhancing flexibility, reducing muscle tension, and promoting better posture. In this article, we will explore the various benefits of assisted stretching and how it can positively impact your body and mind.
Introduction
Assisted stretching, also known as facilitated stretching or partner stretching, involves the help of a trained professional or a stretching device to guide and support your body through a range of stretching exercises. Unlike traditional static stretching, where you hold a stretch for a prolonged period, assisted stretching focuses on dynamic movements that target specific muscle groups and joints.
What is Assisted Stretching?
Assisted stretching is a form of stretching that combines passive stretching and active participation. It involves the assistance of a trained professional who uses their expertise and knowledge to help you achieve deeper stretches and improve your overall flexibility. With their guidance, you can safely explore your body's range of motion and push past your comfort zone.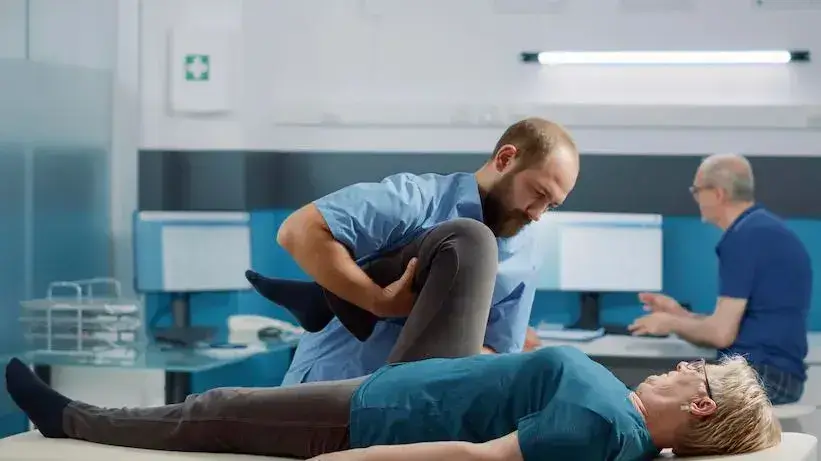 How Does Assisted Stretching Work?
During an assisted stretching session, the professional or device provides support and guidance to help you move through a variety of stretches. They apply gentle pressure to specific muscles or joints, gradually increasing the stretch to your desired level. The assistance allows you to relax into the stretch while ensuring proper alignment and minimizing the risk of injury.
The Benefits of Assisted Stretching
Improved Flexibility and Range of Motion
Assisted stretching targets tight muscles and connective tissues, gradually lengthening them and improving their elasticity. Regular assisted stretching sessions can lead to significant improvements in flexibility and range of motion, allowing you to move more freely and perform daily activities with ease.
Enhanced Athletic Performance
Athletes and fitness enthusiasts can greatly benefit from assisted stretching. By increasing flexibility, assisted stretching helps optimize athletic performance by improving agility, coordination, and balance. It enables athletes to achieve a wider range of motion, enhancing their ability to perform complex movements required in sports and physical activities.
Reduced Risk of Injury
Tight muscles and limited flexibility can increase the risk of injuries during physical activities. Assisted stretching helps release muscle tension, which can alleviate stress on joints and reduce the likelihood of strains, sprains, and muscle tears. By improving flexibility and addressing muscle imbalances, assisted stretching promotes better biomechanics and helps prevent injuries.
Alleviation of Muscle Tension and Pain
Many individuals experience muscle tension and discomfort due to sedentary lifestyles, repetitive movements, or stress. Assisted stretching can provide relief by targeting tight muscles and promoting relaxation. It helps lengthen and release tension in muscles, alleviating pain and promoting a sense of overall well-being.
Increased Blood Circulation and Nutrient Supply
As the muscles are stretched during assisted stretching, blood circulation is enhanced. This increased blood flow delivers vital nutrients and oxygen to the muscles, helping them recover faster and reducing muscle soreness. Improved circulation also aids in the removal of metabolic waste products, promoting better overall muscle health.
Improved Posture and Alignment
Assisted stretching can help correct poor posture caused by muscle imbalances or prolonged periods of sitting. By stretching tight muscles and strengthening weak ones, assisted stretching promotes better alignment and postural stability. It can alleviate common issues such as rounded shoulders, forward head posture, and lower back pain caused by muscular imbalances.
Stress Relief and Relaxation
The benefits of assisted Stretching are not only for the body but also the mind. The rhythmic movements and gentle stretches induce a relaxation response, reducing stress levels and promoting a sense of calmness. It can be an excellent addition to any stress management routine, allowing you to unwind and recharge.
Rehabilitation and Injury Recovery
Assisted stretching is often used as part of rehabilitation programs to aid in injury recovery. It helps restore flexibility and range of motion in injured muscles and joints, promoting faster healing and preventing the formation of scar tissue. Assisted stretching can also help individuals regain their mobility and functionality after surgery or prolonged periods of inactivity.
Enhanced Mind-Body Connection
Through assisted stretching, you develop a deeper awareness of your body and its movements. It promotes a mind-body connection by encouraging you to focus on your breath and sensations during the stretches. This increased body awareness can carry over into other areas of life, promoting mindfulness and overall well-being.
Customization and Personalization
Assisted stretching sessions can be tailored to meet individual needs and goals. Whether you are an athlete looking to enhance your performance or someone seeking relief from muscle tension, a trained professional can customize the stretching routine to address specific areas of concern and target your unique needs.
Accessible for All Fitness Levels
Assisted stretching is suitable for individuals of all fitness levels. Whether you are a beginner or a seasoned athlete, the stretches can be adapted to your current capabilities and gradually progressed as your flexibility improves. The assistance provided ensures proper form and minimizes the risk of overstretching or strain.
Time Efficiency
One of the benefits of assisted stretching is its time efficiency. In a single session, you can experience a comprehensive full-body stretch that would typically take much longer to achieve on your own. This makes it a practical option for individuals with busy schedules who still want to prioritize their flexibility and overall well-being.
Supportive Environment and Motivation
When you engage in assisted stretching, you benefit from the support and motivation provided by a trained professional. They guide you through the stretches, provide feedback, and encourage you to push past your comfort zone safely. The supportive environment can boost your confidence and keep you motivated to continue incorporating assisted stretching into your routine.
Professional Guidance and Expertise
Assisted stretching sessions are led by professionals with a deep understanding of anatomy, physiology, and biomechanics. Their expertise ensures that you receive proper guidance and techniques that target specific muscle groups effectively. They can also provide recommendations for complementary exercises and stretches to further enhance your flexibility and mobility.
Long-Term Health and Well-Being
Regular practice of assisted stretching can have long-term benefits for your overall health and well-being. By improving flexibility, reducing muscle tension, and promoting better posture, assisted stretching contributes to better body mechanics, reduced risk of injury, and improved quality of life as you age. It is an investment in your long-term physical health and vitality.
How to Incorporate Assisted Stretching into Your Routine?
To incorporate assisted stretching into your routine, consider the following steps:
Find a qualified professional or facility that offers assisted stretching services.
Discuss your goals, concerns, and any specific areas of focus with the professional.
Schedule regular assisted stretching sessions based on your availability and goals.
Follow the professional's guidance and instructions during the stretching sessions.
Communicate any discomfort or limitations you may experience during the stretches.
Consider complementing assisted stretching with other forms of exercise, such as strength training or yoga, for a well-rounded fitness routine.
Monitor your progress and assess how assisted stretching positively impacts your flexibility, mobility, and overall well-being.
In conclusion, the benefits of assisted stretching are numerous and can greatly enhance your physical well-being and performance. Whether you're an athlete aiming to improve flexibility and agility or someone seeking relief from muscle tension and pain, incorporating assisted stretching into your routine can make a significant difference. At Body Therapy Spa, located in St. Petersburg, FL, our team of trained professionals is dedicated to helping you experience the transformative effects of assisted stretching. Take the first step towards a healthier and more flexible body by scheduling a session with us today.